What are the Best Breakthrough Laser Services?
Excel V and Laser Genesis
What is Laser Genesis?
Laser Genesis is a breakthrough laser treatment that stimulates the skin's natural processes to reverse the signs of aging and sun damage and promote vibrant, healthy looking complexion. Micro-pulses of laser energy activate collagen remodeling to improve the appearance of fine lines and wrinkles, and target unwanted brown spots and facial redness. Although the individual treatment results are subtle, the overall effect of a treatment series can be quite dramatic. The result is a glowing, camera ready complexion.
---
What is Excel V?
Excel V is the most advanced aesthetic technology that combines two powerfully precise lasers to target and eliminate vascular concerns (redness, unsightly veins) and benign pigmented lesions (age spots, sun spots, discoloration) on the face and body. Excel V helps skin imperfections such as facial redness, blemishes, discoloration, and scarring. Excel V provides precision laser treatments for today's most common aesthetic and dermatologic skin concerns to quickly give you a clear complexion. Excel V treats rosacea, facial and leg veins, age/brown spots, and acne scars.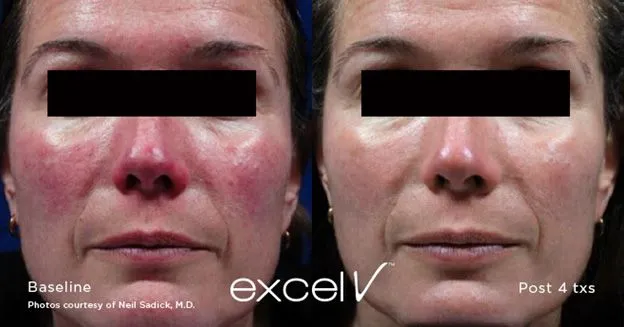 If you are looking for younger and clearer looking skin, our Laser Services at Comprehensive Dermatology of Idaho will be a good fit for you. Vist us today in our Nampa, ID office today!
---
Q: WHAT IS ENLIGHTEN?
Introduced in 2014, enlighten™ is the most advanced laser system for the effective and safe removal of tattoos and benign pigmented lesions.
Q: HOW DOES ENLIGHTEN LASER TATTOO REMOVAL DIFFER FROM OTHER LASER TATTOO REMOVAL OPTIONS?
enlighten features extremely short and high-power picosecond laser pulses which efficiently and quickly break down the ink particles in tattoos. A 'picosecond' is one-trillionth of a second and is 1,000 times shorter than the 'nanosecond' pulses used in existing lasers for tattoo removal. Picosecond laser pulses have been shown to remove tattoos more completely and in fewer treatment sessions than traditional laser used historically in the past.
Q: HOW MANY TREATMENT SESSIONS ARE REQUIRED?
The total number of treatments vary depending on the composition, depth and the color of the ink, as well as the size of the tattoo. You should be prepared for multiple treatment sessions, and your provider can give you a better idea of the total number of treatments needed during your consultation and once your treatments begin.
Q: WHY ARE MULTIPLE SESSIONS REQUIRED?
Tattoo ink is deposited deep in the skin. In order to reach all of the ink in the skin, multiple treatment sessions are needed for clearance. Depth, size, and color of the tattoo also impact the number of treatments needed.
Q: WILL THE TATTOO COMPLETELY DISAPPEAR?
In many cases, yes. However, it is very important to know that some ink colors are more difficult to clear than others. Consult with your enlighten provider to determine if enlighten is right for you.
Q: IS THE PROCEDURE PAINFUL?
Patients compare the procedure to a rubber band being snapped against their skin. Topical or local anesthetics may be available from your provider to minimize discomfort.
Q: ARE THERE ANY SIDE EFFECTS FOLLOWING THE TREATMENT?
Most patients experience redness and swelling immediately following the treatment. These side effects are temporary.
Q: IS THERE ANY DOWNTIME ASSOCIATED WITH THE TREATMENT?
Patients can return to regular activities immediately following the treatment.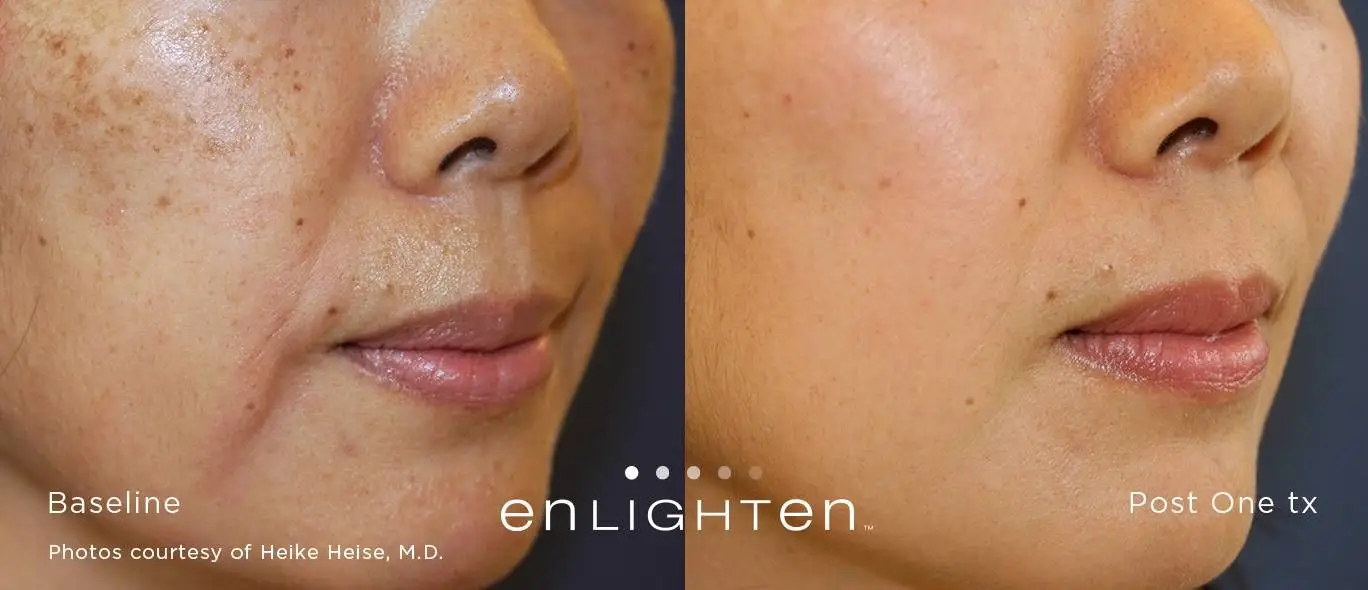 ---
WHAT IS PICO GENESIS?
PICO Genesis is the latest aesthetic treatment to improve the appearance of unwanted freckles, sun spots and age spots - gently, predictably and quickly. PICO Genesis treatments will make your skin appear lighter, brighter, and more even in a series of two to three treatments.
HOW DOES THE PICO GENESIS TREATMENT WORK?
Everyone's skin contains a substance called melanin. I t's what gives our skin its color. When melanin occurs in high concentrations, it can result in brown spots and uneven skin tone. PICO Genesis uses laser light to selectively shatter unwanted pigmentation and remodel the upper layer of the skin to return balance + clearance + radiance to your skin.
HOW MANY TREATMENTS SESSIONS ARE REQUIRED?
A series of two to three PICO Genesis treatments are recommended to achieve an optimal outcome, and ongoing maintenance treatments are encouraged to sustain results over time. Your PICO Genesis provider will discuss a treatment plan during your consultation.
WHAT AREAS CAN BE TREATED?
PICO Genesis treatments are ideal for the face, hands and other areas of the body with noticeable signs of sun damage and excess pigmentation.
WHAT CAN I EXPECT DURING AN PICO GENESIS TREATMENT AND WHAT DOES IT FEEL LIKE?
Prior to treatment, your provider will clean the area. You will feel the tip of the laser device touch your skin. As the laser energy is applied, you'll f eel a sensation that patients often compare to an electric rain sensation. Most patients do not find the treatment uncomfortable, but if you do, your treatment provider may apply a topical anesthetic. Immediately after treatment, you may apply cold air or an ice pack for a short time. You should keep the treated area out of the sun and/or apply sunscreen for protection. Your PICO Genesis provider may recommend additional follow-up care.
WHAT ARE THE POSSIBLE SIDE EFFECTS?
Most patients experience mild redness and swelling immediately following the treatment. These side effects are temporary and typically resolve in several hours. Over the course of a few days, the treated sun spots and freckles will become darker and flake off as they heal, revealing a new, even complexion.
IS THERE ANY DOWNTIME ASSOCIATED WITH THE TREATMENT?
Although you may experience mild redness and swelling for a few hours following the treatment, you can expect to return to your regular activities immediately following the treatment.