Restylane in Nampa, ID
Restylane is a minimally invasive treatment designed to restore the skin's plumpness while softening deep lines, specifically those that form around the lip line and between the nose and the corners of the mouth. These are sometimes called "marionette lines" or "smile lines."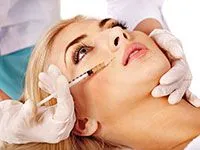 Restylane is a filler made from hyaluronic acid, which naturally occurs in the tissues of all mammals, including humans. This acid is an excellent natural agent for wrinkle reduction, as it maintains skin and muscle volume and promotes hydration. It binds itself to collagen and elastin, which already exists beneath the skin's surface, and smooths facial lines from the inside. The result is a subtle but noticeable revitalization of the face. The chief difference between the two fillers is the size of their gel particles. Restylane has smaller particles, which makes it better for smaller, shallower lines and wrinkles. Restylane is also approved for lip treatments in patients over the age of 21.
The procedure takes about 30 minutes at Comprehensive Dermatology of Idaho. Using a very fine needle, a trained technician injects the gel containing Restylane into the problem areas. Patients typically report very little pain during the procedure. The results are immediately apparent when the treatment is done. Downtime is minimal, although there may be minor swelling and bruising at the injection sites for a few days following the procedure. Restylane will need to be reapplied approximately nine months to a year.
For more information on Restylane, call Comprehensive Dermatology of Idaho, PLLC in Nampa, ID at (208) 467-7546!